There is a lot of talk about brand storytelling, but are you sure you know how it works and what it consists of? Storytelling is the first and foremost a discipline that involves the use of the principles of rhetoric and narratology: the act of storytelling, applied to corporate values, gives rise to storytelling management. A correct "storytelling" strategy involves fundamental steps to define the company's values, which eventually intersect with the Marketing Communication Strategy.
Brand storytelling
Creating a brand storytelling means creating a narrative universe in which the reader can recognise himself: a path that leads the customer to us. The following is a list of the steps to follow in order to begin our journey, or rather, storytelling.
Defining brand character and personality: start with the "why".
The Golden Circle theorised by Simon Sinek turns traditional communication upside down by changing the starting point from 'what' our company does to 'why' – followed by 'how' and 'what'. In this way you are more likely to connect directly with your audience, going beyond their purely rational side.In this phase you have to define values, positioning and tone of voice of the brand, giving it a unique and distinctive personality. You cannot disregard your audience – who you are addressing – and you must ensure that you convey a clear message that captures their attention.Two points that should not be underestimated: establishing communication objectives that are clear, measurable, precise, realistic, consistent and, why not, a little bit bold and, finally, analysing the context by identifying the characteristics of the market that interests us and carrying out an analysis of competitors or benchmarks.
Know your target audience: who are your audiences? Who do you want to talk to?
You should always consider the audience of your digital presence: you are not just talking to end customers, but to all stakeholders – such as suppliers, intermediaries, partners. It's not about numbers, it's about people. Targets are groups/sets of people like us, so the deeper we get into the real knowledge of their needs, the greater the chances of success.Four main elements to examine:

Socio-demographic characteristics
Habits
Attitudes and/or behaviours
Motivations

At this point in the process, you have two tools to help you with your research: Google Trends (to understand what people are looking for and what keywords they use) and the description of Personas (invented figures representing the different types of customers of a given company).

 Identify insight and concept: create the story you want to tell. In this phase we get to the heart of the narrative: if insight is the verbalisation of a need – which can be expressed or unexpressed – or the problem we want to solve, the concept is the story we want to tell. The insight is always related to something shared – a gesture, a symbol, a belief, an emotion – that can break through the identity of the people we want to involve. But where can you find inspiration? In reality, everywhere: in a post, in a comment, in a discussion… An attentive eye recognises a common problem or attitude, creating our own key to understanding the phenomenon/need to be transformed into insight.Once the problem has been identified, the solution can be born.

Here is the concept: the idea that encapsulates the whole world of the brand, its deepest message, the promise we want to make and the reason why we should be chosen. Ask yourself if it works on all the relevant touch points, tools and media you want to use in the communication campaign. Get used to considering the concept as the brand's narrative, its storytelling, and tap into the world of stories (narrative functions and roles).

At this point, you have everything you need to fine-tune your content.
What content is effective for storytelling?
A simple equation: if you are not relevant, you will not be considered. For this reason, every piece of content you create (micro-story) should relate to the macro-story (the story) you want your brand to tell, reinforcing it and making it always recognisable.
But, what content to create? Which type works best? They can be quotes and quotations, graphics, tutorials, newsletters, podcasts, articles, infographics, videos, social posts… The important thing is that they are creative, highly personalised, able to create engagement and empathy in the users who use them.
A tool that can help you enormously in your content marketing strategy is the content pyramid.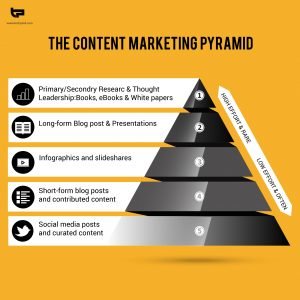 Mainly used in the SEO and Social Media, this pyramid – in a crescendo of effectiveness and costs – identifies five 'actions' to be addressed to one's audience, including their frequency (daily, weekly, monthly…) and the types of appropriate content: let's see them together.
Inform and entertain
This is the typical daily content, which can be repeated every day: we are talking mainly about images, tweets, mentions, status updates… In addition to entertaining followers of social channels, they aim to inform.
Teach
Blog posts, mini videos, how-to articles and tutorials… Content that requires more attention from the user, who will be explained/taught something related to a company product or service. We recommend a frequency of two pieces of content per week.
Educate
Twice a month, you can plan to develop content such as cheat sheets, mini-guides, descriptive images, checklists, interviews to be published on the blog, podcasts… We are in the middle of the pyramid: development time and production costs go up, but so does the level of effectiveness.
Involve
This content can really make a difference: infographics (static, animated, interactive), professional videos, whitepapers, surveys, e-books, webinars… One every two months is the recommended "dose".
Enthusiasm
We have now reached the highest part of the pyramid, where content considered to be of the highest value also requires a higher budget and timeframe: we are talking about blog tours, contests, video testimonials, events (online and offline), trade fairs… Include this content in your communication strategy – planning it well in advance – no more than twice a year.
Now that you have decided what you want to transfer and how often, you need to turn your content into concrete actions. This brings us back to the fundamental concept of touch points, i.e. the occasions in which we can reach our target audience: define where you want to distribute your content, mapping out the most appropriate and receptive media and channels, based on the communication objectives defined at the outset.
What are you waiting for? You have all the elements to start with your story… Let the story begin!
– Article by Silvia Vitale, Digital Marketing Communication Specialist for bbrand