Web, Social Media Marketing, Digital Events
What does Digital Marketing mean?
This term refers to the largest
transformation platform for corporate business
that combines creativity and measurement through digital. It is a diverse world in which many sub-disciplines are involved:
SEO (Search Engine Optimisation), or optimising the visibility of a site on the major search engines;
SEM (Search Engine Marketing), search advertising and display advertising, i.e. the creation of display ads, for websites, or text ads, for search engines;
DEM (Direct E-mail Marketing), i.e. the activity of editorial planning and sending informative and/or promotional emails to customers or potential customers;
Web Analytics, which is of central importance for every Inbound Marketing action, for planning the Digital Strategy and for implementing constant improvements to the digital marketing activity.
Added to all this is
Social Media Marketing
, which today more than ever plays a key role in increasing brand visibility and the application of digital to the evolving world of events.
We know every digital marketing channel and never tire of studying its ever-changing potential. We help your company to take full advantage of the possibilities offered by the digital ecosystem. The main idea behind every strategy is the same: to be found where the customer is most likely to spend their time. With this inspiring principle in mind, we have developed a customised strategic model for planning Digital Marketing actions that really reach your customers. In particular, we take care of:
Analysing the online market and competitors in order to adapt the corporate strategy with the new digital philosophies
Design a digital marketing strategy tailored to your business
Designing your company's website and online presence
Analyse multi-channel user behaviour
Listen to users on the web
Planning web marketing and social media marketing activities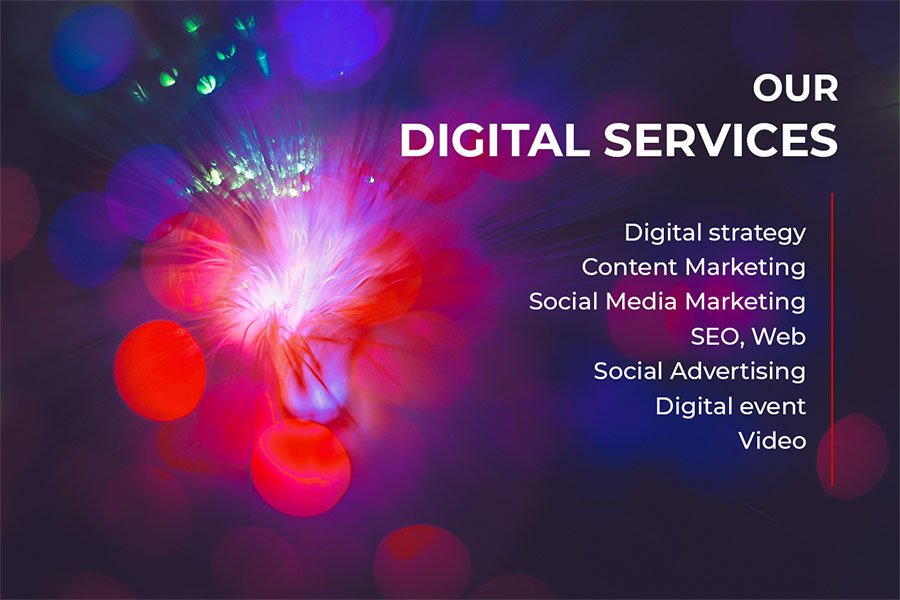 We have a specialisation in Social Media Marketing: we are able to create the social strategy most in line with your company's target audience through all the channels used on social networks. We know how to develop the best performing content for your community and paid campaigns that generate measurable value results.
Which companies rely on our Digital Marketing services?
Potentially all companies that are undergoing a digital transformation and need to build their digital positioning in order to make themselves known and launch new products/services. In particular, we target two macro types:
International companies that are expanding in Italy and need a point of reference to help them find their market niche;
Italian companies that intend to internationalise in Europe, focusing on Spain, France and the UK.
We usually respond to the needs of clients who require a single point of reference to design a targeted digital strategy to achieve their business objectives.